This profile is part of Destination Ann Arbor's Great Minds Think a Lot series, highlighting influential leaders in Washtenaw County who make a positive impact within our community.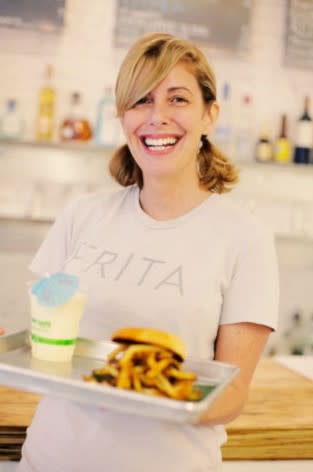 One of Ann Arbor's most esteemed chefs, Eve Aronoff Fernandez, has been a little busy lately.In addition to overseeing the original (and wildly popular) 
Frita Batidos
 on Washington St. – a casual eatery that's been serving delicious Cuban-inspired fare since 2010 – Aronoff Fernandez has got a one year old daughter at home; and earlier this month, she launched a second Frita Batidos in Detroit, near the Fox Theatre. So … busy might be an understatement.Even so, Aronoff – who appeared as a contestant on "Top Chef" in 2009, earned diplomas from Le Cordon Bleu in Paris, and graduated from high school in East Lansing – took a long enough break to answer questions about her work, her life, and her longtime hometown of choice, Ann Arbor.
Q. It sounds like you were fascinated with cooking from a young age. How was the seed planted so early on? And what were some of the first things you learned to cook?
A. I grew up in a family where pretty much everything revolved around food – cooking and eating together. I was always in the kitchen with my Mom – more so as a taster than helper until I was a little bit older. My Mom is a really wonderful cook, and she is very free-spirited in her cooking. She would never follow a recipe, and was always substituting ingredients when she did start with a recipe. I think that was a really great example for me – to develop the confidence of just paying attention to the flavors and textures of different ingredients and how they came together.
My best friend of 45 years has shown me letters I wrote to her when I was away at summer camp, all describing, in painstaking detail, everything I ate throughout the day – which you could imagine, at a summer camp, wasn't a very exciting menu, so I guess I was pretty into food.
I fell in love with cooking when I was about 12 years old. My mom gave me a copy of the New York Times International Cookbook, and I started making dishes from around the world. I would prepare elaborate dinner parties for my parents' friends, and I think my parents still have all of the detailed notes I would take, planning each menu. I would make French baked rice, Asian cucumber salad, Peruvian avocado soup, etc. READ THE REST HERE